How to Become a Windsor Firefighter
The Windsor Professional Firefighters Association represents Windsor Firefighters and Support Personnel once hired. The hiring of Firefighters is conducted by the City of Windsor. To help locate information on the hiring process, we have provided links to the Windsor Fire and Rescue website and to the City of Windsor Firefighter Recruitment page below:
The Windsor Fire and Rescue Recruitment page.
The City of Windsor Firefighter Recruitment Page from the Human Resources Department
Thank you for your interest in becoming a Windsor Firefighter.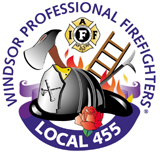 Page Last Updated: Jan 10, 2018 (20:13:38)